Dr. Nicholas Nankey, DC (Chiropractor)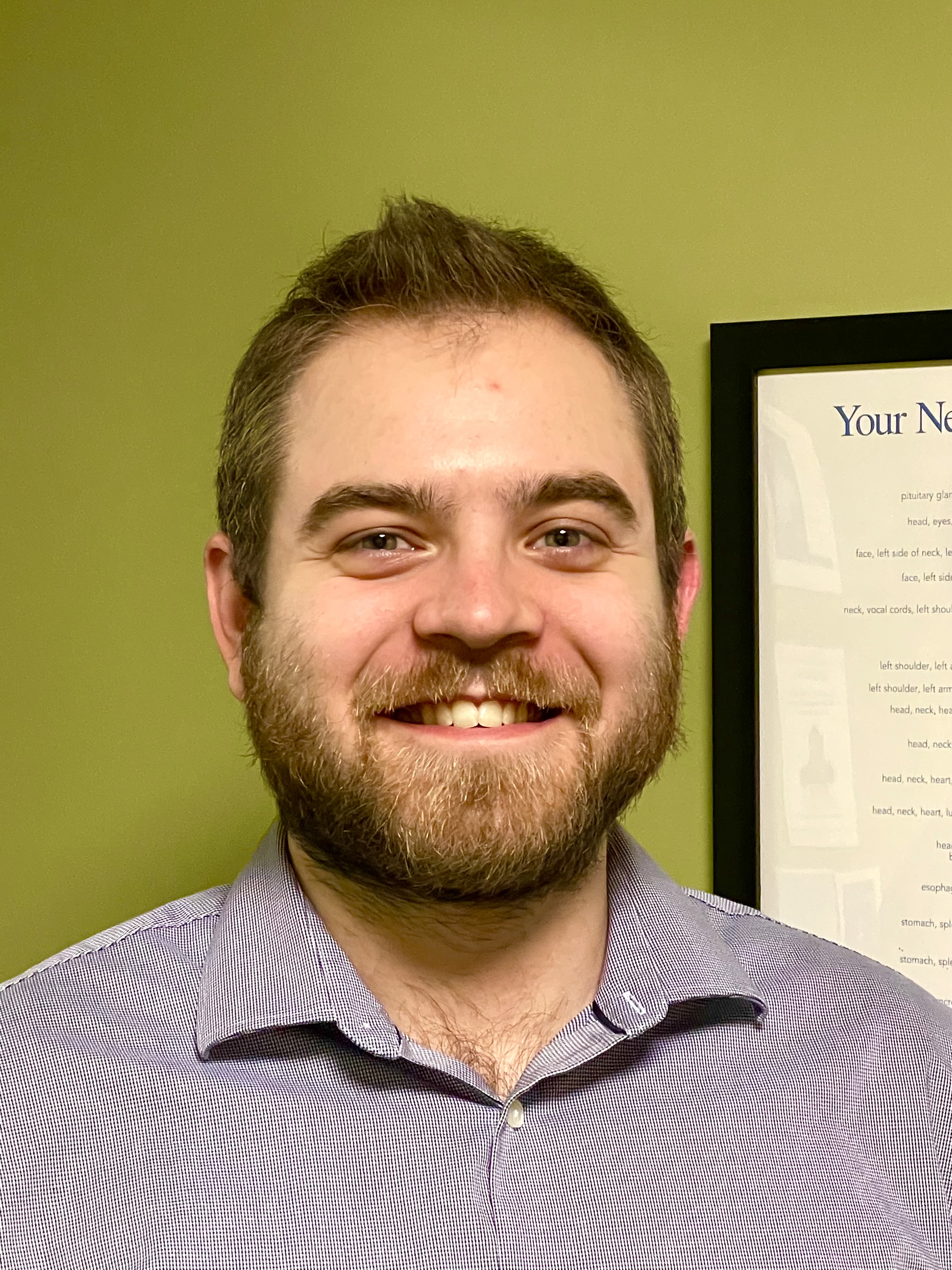 My name is Dr. Nicholas Nankey and I can proudly say I am Western New York born and raised. Since I was younger I knew I wanted to be a doctor of chiropractic after getting a spinal adjustment and being astonished by it. I got brought into the chiropractic work when I was around 10 and have in love with the field ever since. I have seen how well Chiropractic works for me and my family it still amazes me to this day.
My Chiropractic Education
I started my journey at Niagara County Community College and transferred to the University at Buffalo for Psychology. I was always intrigued by how people think and how the mind works. Even though I was a psychology major I was still determined to be a Chiropractor. I then attended New York Chiropractic College in Seneca Falls, NY. While I was there I was a tutor for a few of the Neuroscience classes that were a part of the curriculum.
I loved my greeting with my name on it with my first visit also, talked about health, stretching, posture diet etc.. and I also had an x-ray & adjustment that felt wonderful.

The staff was very nice and Dr. Nick was excellent. What he did helped me so much. I was able to move much better the next day.

Dr. Nick is extremely thorough and so nice! Very easy to talk to!

I feel good about Dr. Nick's approach to chiropractic care and his ability successfully to treat me.

Dr Nick was very pleasant and explained step by step what he was doing. I will definitely continue seeing him.

Dr. Nick was great – he explained everything he was doing before he did it. He listened when I was explaining where the pain was and how it bothered me when I moved in certain directions. He gave me some daily exercises to do in the morning. I'm looking forward to my follow up on Tuesday from the X-rays.

I highly recommend Balanced Living Chiropractic. They had a sign welcoming me as a first time patient. Staff was professional and caring! Dr. Nick was very thorough and listened attentively to my concerns! I'm extremely happy with the service I received and will continue to be a patient. Thank you to a wonderful Dr and Staff!

Scheduling, timeliness, ease of check-in and check-out, time with Dr and being allowed to share my experiences, having my assumptions/concerns being redirected to more likely scenarios with patience and understanding, and the clarity with which Dr. Nick explained everything from what can cause some of these problems, what he's currently seeing, and what we're going to do together to continue to evaluate and resolve was fantastic. I've grown disenchanted with health/wellness institutes because of the lack of softer skills, but your staff crushed it. I'm so thankful right now.

Wonderful experience from start to finish; everyone do very helpful and nice! Dr Nick explained everything during the appointment was very informative and put me at ease!

I was very impressed from the moment I walked in. The reception was very kind and attentive. Dr Nick was helping out making sure everything was going smoothly. People were seen as soon as they walked in the door. Dr Nick explained everything. I feel very hopeful that I will experience some relief from my back pain.

Your entire establishment is excellent! I felt immediately at home, the entire time I was there this morning. Dr Nick is a gem, and Taylor, you're a real sweetheart! Thank you!
Beyond the Office
During my free time since graduating, I have enjoying reconnecting with some lifelong friends and appreciate the time watching the Buffalo Bills. In the summer like golfing and its skill and discipline of spinal mechanics or movement. Golfing is a great sport that requires your body to twist and move, and chiropractic has helped keep my golf swing sharp and crisp.
CONTACT US


Dr. Nicholas Nankey | (716) 832-1818