Meet Our Staff
At Balanced Living Chiropractic Wellness, we believe that our team needs to be highly educated, highly trained, caring, and compassionate. From a friendly hello as you enter our offices to answering your immediate questions, our team is here to assist you along your chiropractic journey.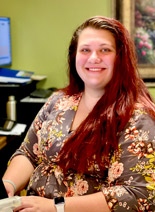 Melissa
I am excited to be working with her family at Balanced Living Chiropractic Wellness. I am glad to be able to step out of my shell and get to know the patients personally. I have been getting adjusted from by her uncle since she was little and I understands that spinal health is a joyful life long commitment. I am happy that me and my family can help you and your family stay naturally healthy.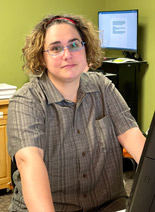 Andrea
I am quite simply thrilled to be part of the Balanced Living family. In my off time I love gardening. Originally from Brockport, NY, I've come to love my adopted home in Lockport, NY, where I live with my fiancée Jake, our dog and not enough cats. I love gardening, cooking and baking on a quest to make the perfect loaf of bread. Suggestions welcome, as are absurd humor and dad jokes.

Haley
I'm excited to be working with the Balanced Living family. I'm originally from Buffalo and currently attending Williamsville North High School as a senior. My future goal is to become a chiropractic myself which makes this job so much better. I enjoy being able to socialize with patients and see the difference as they walk out of our office feeling better than when they came in. I enjoy spending time with my family and friends including swimming competitively, singing in both musicals.  In my free time, as well as being at my cabin in Ellicottville and of course cheering for the Bills. Chiropractic is such an amazing practice and I'm excited to see where it takes me.

Justin
I have been working with the Doctors and staff at Balanced Living Chiropractic for a for several months and have thoroughly enjoyed it the experience.  I recently graduated from UB with a degree in Exercise Science, which will be my foundation to get into chiropractic college and to pursue a career as a DC myself.  I really feel that the care we provide at Balanced Living is second to none and really hope that our patients feel that way as well!
Meet the Staff | (716) 832-1818