Meet Our Staff
At Balanced Living Chiropractic Wellness, we believe that our team needs to be highly educated, highly trained, caring, and compassionate. From a friendly hello as you enter our offices to answering your immediate questions, our team is here to assist you along your chiropractic journey.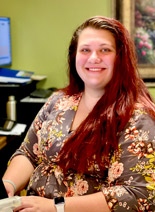 Melissa
I am excited to be working with her family at Balanced Living Chiropractic Wellness. I am glad to be able to step out of my shell and get to know the patients personally. I have been getting adjusted from by her uncle since she was little and I understands that spinal health is a joyful life long commitment. I am happy that me and my family can help you and your family stay naturally healthy.

Sue
I am born and raised in the Buffalo area and married to a wonderful man. We currently live in the City of Tonawanda and love to decorate inside and outside for the holidays like Halloween, Christmas, the Bills, etc… Our dog, Alvin, and cat, Daisy, are both rescue animals and we make sure to spoil them often.
I love to travel and enjoy spending my time with family, friends and neighbors. You may find us in Niagara Falls walking around, enjoying a friendly game of BINGO, enjoying our local restaurants and different events in the area like car shows, craft events, concerts etc…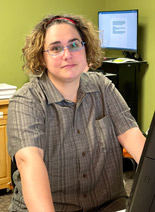 Andrea
I am quite simply thrilled to be part of the Balanced Living family. In my off time, I enjoy singing alongside Dr. Kevin in the Buffalo Choral Arts Society, love gardening, . Originally from Brockport, NY, I've come to love my adopted home in Lockport, NY, where I live with my fiancée Jake, our dog and not enough cats. I love gardening, cooking and baking on a quest to make the perfect loaf of bread. Suggestions welcome, as are absurd humor and dad jokes.

Meet the Staff | (716) 832-1818