Dr. Katelyn Niemiec-Klimek, DC (Chiropractor)
I was eight years old when I received my first Chiropractic adjustment; little did I know how such a small thing would change my life forever."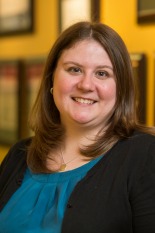 Every doctor and patient has their story on how they discovered Chiropractic, for me I do not know life without Chiropractic. I was eight years old when I received my first Chiropractic adjustment; little did I know how such a small thing would change my life forever. My parents were smart enough to take me to a see my first doctor of chiropractic, Dr. Todd Plinke, after being knocked around from a school bus accident. Since then I have continued care because of the great results I get anywhere from being stressed out from academic life, to improved physical well being. It became more than just a pain in my neck to overall body function, health and wellness. I'd realized that health wasn't about how you felt but how you function!
It was after this at the age of twelve years, I decided to become a Chiropractor. I knew then I wanted to dedicate my life to teaching, and helping people realize how amazing their body is and how they can reach their health potential with Chiropractic care.
In 2003, while going to the University of Buffalo, It was time to see what I was getting myself into on a daily basis as a future Chiropractor. So when Dr. Kevin and Dr. Steve (my uncle) were hiring an afternoon chiropractic assistant I jumped at the opportunity and I knew this would be a great way for me get the experience I needed while finishing up my bachelors degree in science at UB.
A Chiropractic Education
I am a Magna Cum Laude graduate from Sherman College of Chiropractic in Spartanburg, South Carolina. At graduation I was awarded the Milton Garfunkel Academic Achievement and Clinical Excellence awards. Working at Balanced Living Chiropractic Wellness and going to Sherman College have been the most rewarding experiences in my life thus far, but the best is yet to come. I've have seen firsthand how people get results from their chiropractic care, including myself. I see it as my responsibility to educate my practice members on the benefits of an adjustment, just like someone did for my family and me when I was younger.
Regardless of your age or condition, a better working spine is good for your health.
Along with attending community events, I am involved in several community social and professional organizations. I am a member of the International Chiropractic Pediatric Association (ICPA) certified in the Webster Technique. The Webster Technique is a specific chiropractic analysis and diversified adjustment. The goal of the adjustment is to reduce the effects of sacral subluxations and or SI joint dysfunction. In so doing neuro-biomechanical function in the pelvis is improved.
In addition to the ICPA, I am also a member of the New York Chiropractic Council in Western New York District 8, and American Business Women's Association of Western New York.
There can be anxiety when doing something for the first time, however the staff and doctors put me at ease.

Dr. Katelyn has been great during my recovery!. A great listener and awesome staff!

Staff was super friendly and very informative. Highly recommend!

I felt reassured by Dr. Katelyn as she specializes in working with pregnant women. She seems very knowledgeable and I feel confident with her providing chiropractic care throughout and after my pregnancy.

Everyone was amazing!! I was so scared of the visit being painful and even more afraid of the price. Everyone is so kind, up front, and they listen to your concerns.

Dr. Katelyn came very highly recommended. I was extremely happy with her. I am looking forward to my next appointment.
On a Personal Note…
I am a proud Western New York Native having been born and raised in North Tonawanda; I understand the community and culture. I am routinely in the community educating people about true health and wellness with Chiropractic. From time to time you will see me at the Vitamin Shoppe and Boulevard Mall in Tonawanda, Amherst Senior Center, and Western New York Pregnancy and Baby Expo held in Cheektowaga.
In my spare time I enjoying working out and attending fitness classes at the Buffalo Athletic Club in Tonawanda, lap swimming and recreational volleyball in West Seneca. Growing up in a sports town; it's hard not to be an avid sports fan! My favorite sport to attend and watch is hockey! I even participate in a Fantasy Hockey League. Even when it is tough to love our local sports teams I still believe we can win! That's just the kind of fans Buffalo has. Let's Go Buffalo!
One of the great things about Buffalo is that there is always something to do especially during the summer. I enjoy taking in the local sites and festivals with my friends and family. My husband and I like to get outside and enjoy the sunshine by going hiking or taking in a game of Disc Golf or Kan Jam. Just before summer ends my husband and I head up to Blue Mountain Lake in the Adirondacks for hiking and camping. When it snows, I love to head down to Holiday Valley to go skiing with my family.
Want to Learn More?
Call our Amherst chiropractic office today to see how chiropractic can help change your life. I look forward to helping you with your health goals!

Dr. Katelyn Niemiec-Klimek, DC | (716) 832-1818