Family Care at Balanced Living Chiropractic Wellness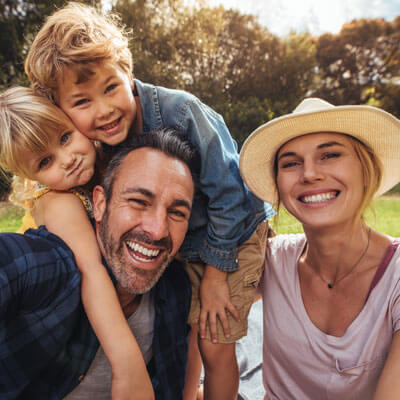 Our practice is here for your entire family. From helping young children to elderly adults, we offer safe, gentle chiropractic care to people of all ages.
We are dedicated to promoting health and wellness generation after generation. Our practice has the knowledge and expertise to help you and the people you love get better and stay healthy for years to come.
Learn more about our unique approach to family care.
Fostering the Best Function for Your Family
Our practice focuses on more than simply pain. We want to help you feel better, but more importantly, we want to help restore function to your body and allow you to do what you love.
Relieving your pain is important to us, but helping your body function better as a whole is what we are all about.
Why Chiropractic Care?
It is impossible to perform a spinal adjustment without affecting your nervous system as a whole. The nervous system is the master control system of the body. When your spine is aligned, your nervous system is free to communicate with all other parts of your body. If this line of communication remains strong, your body thrives as a result.
We Can Help Your Little Ones, Too
Chiropractic care is not only beneficial for adults, but it offers long-term benefits for children, too. Like adults, children face a variety of stressors daily. Everything from natural growth and development to the physical demands of sports play a role in their emotional health. These physical, chemical, and emotional stressors can easily overwhelm the nervous system— ultimately leading to symptoms of all kinds.
We believe that early intervention is important. The earlier children are under natural health care, the less likely they are to experience detrimental health problems later in life. Balanced Living Chiropractic Wellness is here to check your child, detect misalignment as early as possible, and carefully adjust them according to their needs. You can help your child have a natural, happier, and healthier childhood. Why wait? Do what is best for your little ones and get them in to see us today!
Family Care Is About Everybody
We are here for every person in your family. We are trained to gently and carefully adjust pregnant women, developing children, and older adults alike. Our practice proudly offers many different chiropractic techniques depending on the needs of each patient. Chiropractic care truly is for everyone.
We have noticed a change in families who have been under chiropractic care for a long time. They are interested in prevention rather than fighting illness after illness. The earlier you begin natural health care, the more likely you are to avoid invasive medical assistance in the future.
An ounce of prevention is worth a pound of gold."
Get Started Today
Set your family up for success and contact our Amherst practice today! We are glad to address any questions or concerns you might have and help you schedule your visit.
CONTACT US

Family Care Amherst, Buffalo NY | (716) 832-1818