What are the Benefits of Digital X-Rays?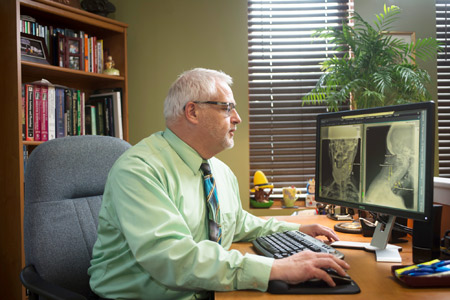 When patients choose us for their care, it's our goal to provide the best, most comprehensive service possible.
We're proud to announce the addition of a new piece of technology to our practice: The Advantage Plus by TXR X-Ray System. With this new system, we can offer patients faster, more precise images of their spine and body while greatly reducing exposure to radiation.
We're always invested in helping patients receive the best care possible, and we know this addition to our practice will do exactly that.
Some of the benefits include:
Assisting in visualizing the location of the spinal issues
Revealing pathologies and degeneration
Showing a history of your spinal stresses
Confirming other examination findings
Helping make your adjustments more precise
What Can X-rays Tell Us?
X-rays offer us an inside look into your spine that we wouldn't have otherwise. By taking x-rays, we're able to identify problems specific to your condition. We can also pinpoint the exact area we should focus our attention and adjustments on.
X-rays also let us know what areas of your spine hold stress or may be prone to degeneration.
Simply put, our new advanced x-ray system allows us to provide you with the most precise spinal adjustment possible.
We also use x-rays as a baseline for your progress and improvement in our care. Throughout the course of your time with us, we can take new digital images to show you exactly how you're improving. These images also give us insight to what's working in your care, and what we can change to get even better results.
Does Every Patient Need X-rays?
Not every patient will need x-rays. If your injury or problem is simple and easily identifiable without the need for imaging, we can go ahead and provide you the care you need without them. We recommend digital x-rays for patients with red flag issues for safety or prolonged, ongoing injuries with ortho neuro findings that may need some digging to understand the root cause.
Want to Learn More?
We'd love to see you in our practice soon and show you exactly how chiropractic care can positively influence your health and life. Get started today by contacting us to book an appointment. We look forward to welcoming you into our care.

Digital X-rays Amherst, Buffalo NY | (716) 832-1818