Additional Services
Christina Phillips, Certified Yoga Instructor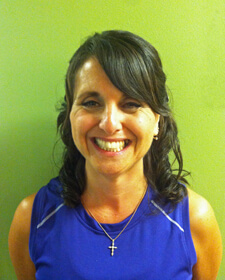 I discovered the joys of yoga later in life than I would have liked. Hindsight is 20/20. I have always enjoyed sports and physical activities throughout my life beginning with gymnastics at the age of five, right through my twenties participating in softball, cheerleading, volleyball, and martial arts. Sports and fitness however, were always more a hobby than a career.
After earning an Associate degree in journalism and broadcasting, I changed my course of study and earned a BS and MS in Education and Speech Language Pathology from the State University College at Buffalo, graduating Magna cum Laude.
I have maintained a career in speech for 22 years, working with 2-5 year olds. I am a member of the American Speech and Hearing Association, and maintain my Certificate of Clinical Competence by attending continuing education seminars.
During my 22 year career, I married and had 3 children. Of course my love of fitness continued, and after the birth of each child I tried every new fad workout to get back in shape. After my last child, I discovered YOGA! Although, it was not quite the yoga I practice today. I purchased numerous yoga tapes usually lead by the most popular fitness celebrity, all to achieve the physical benefits and a "yoga body". I hate to admit this, but I would always fast forward through any breathing or relaxation exercises that were offered. Finally, a friend and I decided to participate in a class at the Himalayan Institute of Buffalo. At first I was frustrated that this live class didn't have a fast forward button! I actually had to practice breathing, AND relaxation! Thankfully so, it was life changing. This is where my true love of yoga began and has continued for 18 years.
I learned that yoga is not simply a physical exercise program; it is a lifestyle that can be lived by everyone. Combined, the asana (postures), breathing, relaxation, and meditation, provide fitness for the whole person. It provides strength, flexibility, balance, improved physical and mental health, and stress reduction. It allows us to move inward, get to know ourselves, and make our practice personal.
I knew I had to share the joys of yoga with others, so I earned my Yoga Teacher Certification from Aura Yoga, and also from the Himalayan Institute Teacher Certification Program. I taught classes for 9 years at a community education program. I currently teach at Amherst Center for Senior Services, Himalayan Institute of Buffalo, private home classes, and thankfully, here at Balanced Living Chiropractic Wellness. I am very excited to be a part of Balanced Living Chiropractic Wellness. I was blessed with a referral to this practice by a few students that I had the pleasure of teaching in the past, and am very grateful. I consider each class as an opportunity to learn, as much as to teach. The privilege of working with Dr. Steve, Dr. Kevin, Dr. Katelyn, and the class members has been an invaluable resource in my growth as a yoga instructor. I look forward to many years of teaching and learning at Balanced Living Chiropractic!
On a personal note, I have 3 children, all grown up now. I love to spend time with my family and friends. We love being outdoors and spend much time at our camp in the southern tier, hiking, biking, and eating. I participate in many fitness classes at World Gym, my personal favorites are spinning, and zumba (although I haven't got a lick of rhythm). But, my favorite time of day is my early morning walks with my two best buddies, my bulldogs Beau and Sophia. What a sloppy but great way to start any day! Peace!


Additional Services | (716) 832-1818